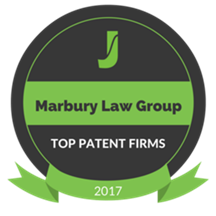 THE MARBURY ADVANTAGE
The Marbury Law Group is one of Metro Washington, D.C.'s premier mid-size, full service intellectual property and technology, commercial law, litigation, and trademark litigation law firms. Marbury has been recognized by Juristat as a top 35 law firm nationwide, and has achieved the AV® Preeminent™ Peer Review Rating from Martindale-Hubbell. We represent a full spectrum of clients from Fortune 500 companies, mid-size technology companies, high tech start-ups, and venture capital funds.
Our attorneys bring a broad range of experience to bear on your legal issues. We have worked as technology company business executives, US government R&D managers, high tech start-up founders and in-house counsel, "big-law" IP and technology attorneys, U.S. Patent & Trademark Office (USPTO) patent examiners, and judicial clerks. In particular, our former USPTO patent examiners bring insight into USPTO inner workings and procedures and can provide strategic advice to clients from an "insider's" perspective. Our attorneys have also been on the front line of high profile patent litigations. This experience attacking and defending patents in litigation buttresses our attorneys' ability to craft high-value patents that withstand scrutiny under enforcement and translates into winning solutions for our clients.
Our seasoned commercial and IP litigators bring first-chair experience in numerous jury and bench trials at the Federal and Virginia state court levels, as well as trials and trial-like proceedings before Federal government non-judicial boards and panels. We can provide your with insight into the litigation process born from years of courtroom experience.
Marbury is dedicated to providing "big-law" service to clients with the flexibility and personal attention that only a smaller firm can provide. We focus on providing high quality personalized legal services at affordable billing rates, unhindered by unproductive management layers or large overhead expenses.
We see your IP as a vital part of your business plan, as far more than just a patent, trademark, copyright, or trade secret. We help our clients to leverage their investments in IP while managing their budgets.
Strategically located in Reston, Virginia, in the heart of Northern Virginia's suburban Dulles Technology Corridor, our offices are a short drive from the USPTO in the nearby Alexandria, Virginia, giving us easy access to conduct in-person interviews with USPTO examiners and arguments before the Patent Trial and Appeal Board (PTAB). We are also a short drive of most U.S. Government agencies, including the International Trade Commission (ITC), the Department of Defense, Department of Energy (DOE), the State Department, the Commerce Department, NASA, the Central Intelligence Agency, the Department of Homeland Security, etc.
In addition, we are members of and frequently appear before the U.S. District Court for the Eastern District of Virginia in Alexandria, a popular patent litigation venue, and the U.S. District Court for the District of Maryland. We also practice before appellate and state courts in Virginia, Maryland, and the District of Columbia, including the Court of Appeals for the Federal Circuit in Washington, D.C. Through local counsel sponsorship, we have tried cases in many different districts all across the United States.
SATISFIED CLIENTS BRING NEW OPPORTUNITIES
Many of our new clients are referrals from satisfied existing clients in a wide variety of areas of IP, technology law and commercial law. We have drafted and prosecuted thousands of U.S. and foreign patent applications, as well as U.S. and foreign trademarks. We have an active litigation practice that has achieved successful results in jury trials and multiple non-jury trials, including cases in IP and technology areas as well as wins at the Court of Appeals for the Federal Circuit.  We have been an integral part of setting up a number of IP programs and strategies for high tech emerging and start-up clients, acted as virtual in-house counsel to these clients, performed IP due diligence for VC investment and M&A transactions, rendered a variety of patent and trademark opinions, and drafted license and asset transfer agreements.  We have also effectively monetized a number of patent portfolios and assisted clients in finding buyers and licensees for their intellectual property assets.
LET OUR EXPERIENCE WORK FOR YOU
We pride ourselves on understanding the big picture business plans of our clients and the necessity of strategically positioning their business assets, including intellectual property assets and technology as part of that plan. We strive to do more than just prepare and prosecute patent applications; we thoroughly analyze each unique business situation, make recommendations, and offer distinctive out-of-the box legal solutions concerning law affecting our technology company clients.
A BRIEF HISTORY OF THE MARBURY LAW GROUP
The Marbury Law Group, PLLC was formed in 2009 from the merger of Roberts Mardula & Wertheim, LLC and Hansen Huang Technology Law Group, LLP.  Founded initially by partner Jon Roberts in early 1994, the firm has been one of the Washington D.C. metro area's premier IP and technology law boutiques for over two decades.
Today Marbury is focused in the areas of intellectual property and technology law, commercial law and litigation, brand protection, and employment law.  The firm serves a broad range of clients including Fortune 500 corporations, start-up businesses, venture capital funds, emerging technology leaders, and solo inventors.
The firm name "Marbury" comes from the landmark 1803 U.S. Supreme Court decision, Marbury v. Madison, 5 U.S. (1 Cranch) 137 (1803), the first time the Court declared something "unconstitutional," and established the bedrock concept of judicial review – the idea that courts may oversee and nullify the actions of another branch of government. Thus, Marbury v. Madison helped define the "checks and balances" of the American form of government.